---
1301-WPS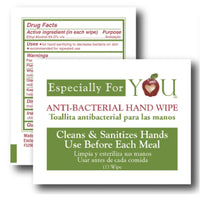 Protect patients at bedside meals with these individually wrapped anti-bacterial hand wipes. 

Designed to allow patients to clean and sanitize their hands with clear instructions printed on packaging to use before each meal. 
According to RID Committee, "75% of patient rooms are contaminated with MRSA and VRE on bedrails, bedside tables, and counters.  Once patients touch these surfaces, they become vectors for disease."  According to the CDC, "if soap and water are not accessible, use an alcohol-based hand sanitizer that contains at least 60% alcohol."
Towel size is 5" x 5" and is a soft fabric, not paper.  
Contains 64% ethyl alcohol for microbial control.  Also contains Vitamin E and Aloe. 
Conveniently packed 2000 to a carton.
MedFare's Especially For You Design.  Matching Menus, Traycovers, Tray Slips, Patient Hand Wipes, Tray Tents, Labels, and much more are available.